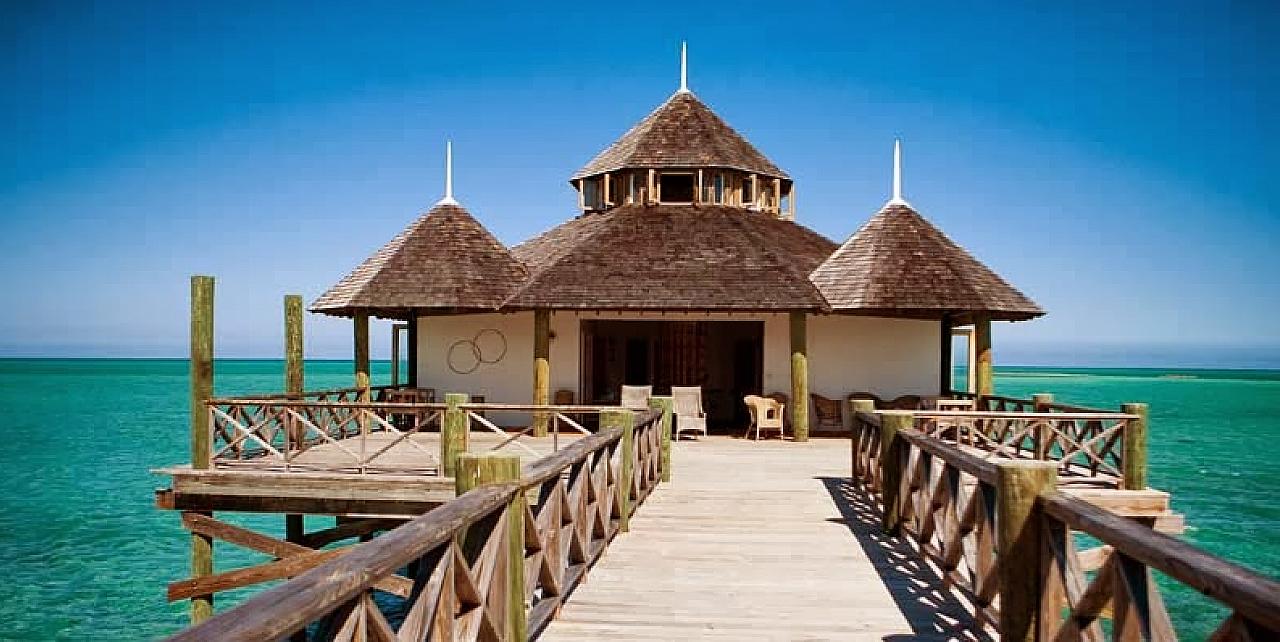 Add to Favourites
Plan Your Trip
HAVE QUESTIONS?
UK : 0845-017-6707
USA/CANADA: +1 347 707 1195
BARBADOS: +246-432-6307
INTERNATIONAL: +44 1978 368531
Kamalame Cay is located just of the coast of Andros in The Bahamas at Staniard Creek. This 96-acre private island hideaway is accessible only by a private ferry or seaplane and offers three miles of soft sand and clear blue waters. The accommodation at Kamalame Cay Bahamas is varied and flexible to suit all and includes rooms, suites and beautifully decorated private villas up to 6 bedrooms.
The restaurant on site offers a great choice of Caribbean cuisine, thre is a freshwater communal pool and not far away is some of the best fishing and diving in the Carribean.
There is the superb Overwater Spa offering packages ans treatments to sooth your mind and body.
ACCOMMODATION SELECTION INCLUDES :
34 Rooms & Suites comprising:

Two, Marina Rooms - Ra & Minnow:
Fronted by an inviting veranda, the island's charming wood-framed rooms overlook the marina and the Cay's less windy leeside cove. Conveniently located nearest to the Great House, Tiki Bar, Pineapple House and Pool, these rooms are perfect for marina guests looking for a cosy escape.*
Each of these classically designed 300 sq ft rooms is furnished in the trademark Kamalame style. Their relaxing beach aesthetic allows guests to quickly submerse themselves in the Cay's way of life. A petite food and beverage bar is outfitted with ice bucket, tea, coffee and a fully stocked fridge. En suite bathrooms are equipped with a shower, beach and bath towels, an array of Molton Brown products and plush terry robes.
Maximum Occupancy: 2 adults.
*Please note these rooms are not recommended for couples.
Four, Beach Rooms - Driftwood South, Driftwood North, Mahogany South & Mahogany North:
A few quick steps away from the pristine waters of the Atlantic, our Beach Rooms offer a tranquil escape from the hectic pace of life. Consisting of a single spacious room (approx. 575 sq ft), each of our Beach Rooms boast a private entrance, a fully stocked wet bar including a selection of premium spirits and international wines, an en-suite bathroom with a sea view soaking tub and a covered veranda.
Our Beach Rooms also boast a connecting door, lockable from both sides, to an adjoining Beach Suite—perfect for families or groups travelling together. Keeping in the Kamalame Cay spirit, these rooms offer breathtaking views and refreshing sea breezes.
Maximum Occupancy: 3 Adults
Two, Beach Suites - Driftwood Middle & Mahogany Middle:
Nestled in the heart of the island, our Beach Suites provide the perfect space for a getaway retreat. Beautifully furnished in the relaxed beach style that has become a trademark along the Cay, these spacious suites (approx. 775 sq ft) feature an inviting living space, an en-suite bathroom with a sea view soaking tub and a covered veranda.
Fully equipped with a stocked wet bar including a selection of premium spirits and international wines, a stereo system and a range of games & books, these rooms quickly become your home away from home. With a private entrance, each Beach Suite comes with connecting access to our Beach Rooms--perfect for families or groups of friends travelling together. This is beachfront living at its best.
Maximum Occupancy: 3 Adults
Four, Cottage Suites - Casuarina, Cocoplum, Wild Dilly & Sapodilla:
Wrapped in French doors and sweeping verandas, the island's four Cottage Suites offer expansive ocean views and supreme privacy just a few steps from the seashore. At 700 sq ft with lofty 17-foot ceilings, each peaked roof, limestone and wood-framed cottage features a large sun-washed bedroom with king or twin beds and is furnished in an array of island décor.
Spacious en suite baths feature sea view soaking tubs and a small wet bar is fully stocked with a selection of premium spirits and international wines, snacks, tea, and a French press. Our Cottage Suites are the perfect answer for any couple looking for a romantic retreat.
Maximum Occupancy: 3 Adults
One, Cottage Suite - Pigeon Plum:
Featuring a spacious bedroom and living area with a covered, sweeping veranda overlooking the sea, the island's Pigeon Plum cottage is a Caribbean haven waiting to be discovered.
With 17-foot ceilings and sweeping ocean views, this 1,200 sq ft, peaked roof, limestone and wood-framed cottage is airy, sun-splashed and furnished in an array of island décor with South Asian accents. With it's signature alcove, picturesque veranda and large bedroom that can be fitted with a king or twin beds, Pigeon Plum works as well for couples and honeymooners as it does for small families with young children.
The spacious en suite bath features a sea view soaking tub and the villa's kitchenette is stocked with a selection of premium spirits and a selection of international wines, snacks, tea, and a French press.
Maximum Occupancy: 2 Adults and 2 Children 12 and under.
One, 2 Bedroom Cottage - Rose Apple:
With breathtaking views from sunrise to sunset, Rose Apple is the perfect Bahamian retreat. Privately situated with east and west-facing elevated decks that boast sweeping vistas, this two-bedroom cottage, with its vaulted ceilings and inviting living area, is the ideal getaway for families and couples alike.
Featuring a stunning mix of modern and beach-infused décor, Rose Apple was personally designed by the Cay's Directors and comes equipped with two bedrooms that can be adapted to have king or twin beds.
Airy and sun-dripped, Rose Apple captures true island luxury. A full kitchen is stocked with premium spirits and international wines, snacks, tea, and a French press with additional items available to be tailored to guest preferences prior to arrival.
Two, 2 Bedroom Cottages - Blue Winged Teal & Dorado:
Redefining island living, our Two-Bedroom Cottages, Blue Winged Teal and Dorado, offer the perfect oasis from everyday life. These 1,400 sq ft private cottages serve as a quiet retreat and sit just a few footsteps away from the water's edge. Featuring elevated decks that boast both east and west-facing panoramic vistas, vaulted ceilings, analluring living area, and elegant bedrooms, these cottages are the epitome of Bahamian luxury.
With a stunning mix of modern and beach-infused décor, the cottages were designed to thrive on natural light and let in the cool sea breezes with beautiful French doors throughout the space. A full kitchen is stocked with premium spirits and international wines, snacks, tea, and a French press. Rooms can be adapted to either king or twin-sized beds.
Maximum Occupancy: 5 Adults
One, 2 Bedroom Villa - Indigo Palm
The newest addition to Kamalame Cay's Villa Collection, Indigo Palm offers the best of what a Bahamian getaway should be. The 1,400 square foot, two-bedroom villa is the perfect island haven for your group, whether you are travelling with friends, family or both. In addition to two master suites complete with king sized beds and two bathrooms with outdoor showers, Indigo Palm also has two sleeping nooks nestled into the hallways, discretely concealed by floor-length curtains: the perfect, cosy sleepy quarters.
Beautifully furnished with bold, hardwood floors, indigo blues and bright whites, Indigo Palm boasts a breezy common space perfect for lounging, reading, and dining.
During the day open windows and French doors allow you to soak in the fresh and salty island air. On warm nights, stay cool with ceiling fans and optional air conditioning. Indigo Palm's full kitchen is stocked with premium spirits, international wines, snacks, tea, and a French press.
Maximum Occupancy: 8 Adults
Two, 2 Bedroom Villa - Driftwood & Mahogany:
The island's Two Bedroom Villas are fronted by generous, covered verandas and expansive gardens that fan out to the shore. With palm-shaded hammocks and beachside loungers, these villas offer a slice of paradise a stone's throw from the sea's edge.
Spanning 1,900 sq ft with 18-foot ceilings, these residences offer a spacious main suite that blends sleeping and living quarters with an open kitchenette connected to a pair of smaller adjoining wings. Each suite includes its own private entrance and terrace providing an added layer of privacy throughout the villa.
Furnished in classic Kamalame style, the villas feature spacious en suite baths, equipped with sea view soaking tubs. The kitchenette is stocked with a selection of premium spirits and international wines, snacks, tea, French press. These villas sleep four to six and are ideal for families or small groups of friends.
Maximum Occupancy: 6 Adults
One, 2-3 Bedroom Villa - Silver Top:
Perched on the highest point of the Cay, this very special three-bedroom (2,600 sq ft) villa was originally built as the owner's private hideaway. Comprised of four pavilions with Androsian stone walls and entire pine tree trunks refashioned as exposed support columns, Silver Top offers a truly unique air of exotic and earthy luxury.
With splendid views facing both east and west from expansive terraces, guests enjoy the sun as it rises over a secluded white-sand beach lapped by the Atlantic while also being able to watch its gentle fall behind the creek to the west.
Linked by covered passageways and wrapped with private verandas, Silver Top offers private bedrooms that feature en suite baths with soaking tubs and ocean views. Tucked off the main pavilion and connected by a covered walkway sits a third bedroom, a wooden cottage—the smallest of the three bedrooms, but the most charming with an in-room soaking tub and sweeping views of the island's west side as well as the sea. Silver Top can sleep up to six and is ideal for families, small groups of friends or couples travelling together.
Maximum Occupancy: 6 Adults and 2 Children 12 and under
One, 3-4 Bedroom Villa - Magnolia:
Wrapped in a lush, flowering tropical garden, Magnolia's stylish, sun-splashed rooms offer 20-foot peak ceilings throughout its open concept, living-dining space. The expansive villa opens onto a well-appointed 1,500 sq ft beachfront terrace with panoramic views of the Atlantic.
This airy and stylish villa was conceived, constructed and designed by Kamalame Cay's owners. Having called the West Indies home for six generations, the family's natural gift for creating authentic, indoor-outdoor, tropical living environments saw them outfit Magnolia with whirling ceiling fans, cool stone floors, and wall-to-wall French doors for constant ocean breeze and panoramic views. Enveloped in a soothing coastal palette of beige and white accented with graphic Ikat prints and bright splashes of blue and turquoise, interiors blend modern conveniences with a fresh, contemporary take on classic West Indies charm that balances elegant designer fabrics and furnishings against global décor pieces sourced from Bali and India.
Each of Magnolia's four en suite bathrooms is outfitted with rain showers. Lined in French doors with lofty spaces, the villa's bright and spacious open-concept Great Room offers 1200 square feet of living and dining space. Magnolia's generous outdoor gathering space is equipped with a shaded al-fresco dining zone and includes a modern gas grill, sun loungers and spectacular vantage points.
Maximum Occupancy: 8 Adults
One, 2-4 Bedroom Villa - Cocoanut:
The two-level, 6,000 sq ft four bedroom villa is the island's largest villa and sleeps up to 8 guests in 4 suites. Its vast great room offers panoramic ocean views and is lined in French doors that open onto an extensive, veranda wrapping around three sides. The open plan living & dining room, offset with a full kitchen and free standing wet bar isaccentuated by thoughtful interior accents and hand-carved South Asian furnishings.
Two of the four suites – each with an en suite bath and soaking tub – are connected to the great room. The remaining two, also located on the villa's upper level, are connected as private wings via sweeping verandas. This is island living at its finest.
Maximum Occupancy: 8 Adults and 2 Children 15 and under.
Kamalame Cove:
Attached to the mainland of Andros by a narrow strip of beach, Kamalame Cove—the owner's fully staffed, fourbedroom home—offers complete exclusivity. Perched atop a rocky bluff surrounded by four acres of pristine coral coastline and a lush flowering jungle, this 7,500 sq ft, peninsular villa offers panoramic ocean views. Accessed by a winding limestone pathway cut through a private
garden of palms, bougainvillea, bamboo, oleander, kamalame trees, star lilies and birds of paradise, The Cove offers a truly secluded luxury retreat for up to 8 guests. With a trio of exclusive, white sand coves and a solar heated, freshwater pool at your personal disposal, The Cove offers guests ultimate privacy with complete access to the nearby resort's wide range of spa, sport, dining and nature diversions.
Interiors are designed with a breezy fusion of bamboo and rattan, piles of coffee table books, double height ceilings, Indonesian armchairs, seashells and slipcovers. Lined in invitingly open French doors with ocean vistas on three sides, the whitewashed, 2,000 sq ft Great Room is a sun-splashed seaside haven. Linked by indoor/outdoor walkways and interior gardens, a separate wing houses four, tastefully appointed bedrooms, each with en suite bath, veranda and views over the Atlantic.
Accented with fine wine, spirits and champagne, dining at The Cove focuses on local seafood, line fish to lobster, alongside quality imported game and fowl, fresh tropical fruit and produce. Guests may order from the daily resort menus or design their own culinary experience with the villa's private chef. Outfitted with an al fresco stone grill, fully stocked pantry, and kitchen that opens onto the living room, residents who enjoy cooking are also welcome to craft their own meals. On-request kitchen and serving staff are available along with fresh, local ingredients pre-ordered from the Cay. A pre-holiday questionnaire is available to accommodate preferred food, beverage, wine or spirit requests, as well as any special dietary needs.
Maximum Occupancy: 8 Adults.
DINING AT THE KAMALAME CAY BAHAMAS: Dining is mainly in the Great House.
Breakfast is served from 6.30 am onwards,
Lunch from 12.00 pm onwards
Dinner around 7.30pm
Guests dine privately at their own tables unless they request otherwise
Occasionally, dining takes place under the stars on the Great House Lawn, with a regular Beach BBQ evening at the Tiki Bar (dependent on a minimum number of guests resident)
KAMALAME COVE: 4 bedrooms en-suite, private villa, set in 4 acres on a peninsula of private land with 2 private beaches, swimming pool and use of full facilities on the Cay. It is all-inclusive, but Guests have their own chef, house and grounds staff.
See more details...
Amenities
Air Conditioning
BBQ
Private Pool
See more details...
Bedroom : 1
Bathroom : 1
Location
Just off the coast of Andros in The Bahamas at Staniard Creek Settlement • 20 minutes by road from Andros Town International airport at Fresh Creek and a short 2 minute ferry ride • Only 1 hour from Florida East Coast, or 15 minutes from Nassau.
Rate
Bedrooms: 1 Bedrooms

| From | To | Minimum Stay | Nightly Rate | Weekly Rate |
| --- | --- | --- | --- | --- |
| 01-May-2019 | 14-Dec-2019 | NA | $ 627 USD | $ 4,389 USD |
Rates based on a maximum of 2 guests staying in the One Bedroom Beach Bungalow on a 'Standard Suite' basis. 'Standard Suite' rates include: 32% tax & delivery of a continental breakfast basket to the room daily. All other food and beverages are charged to the guest at the end of the stay. Please note, there is a 15% gratuity charge added to your food & beverage bill at the end of stay, as well as 12% Value Added Tax (VAT) added to all goods. Rates also available for all other room, suite and villa catergories together with an All Inclusive Plan, call or email for further information. Rates, taxes and service charges are subject to change without notice.
Other Properties you may like